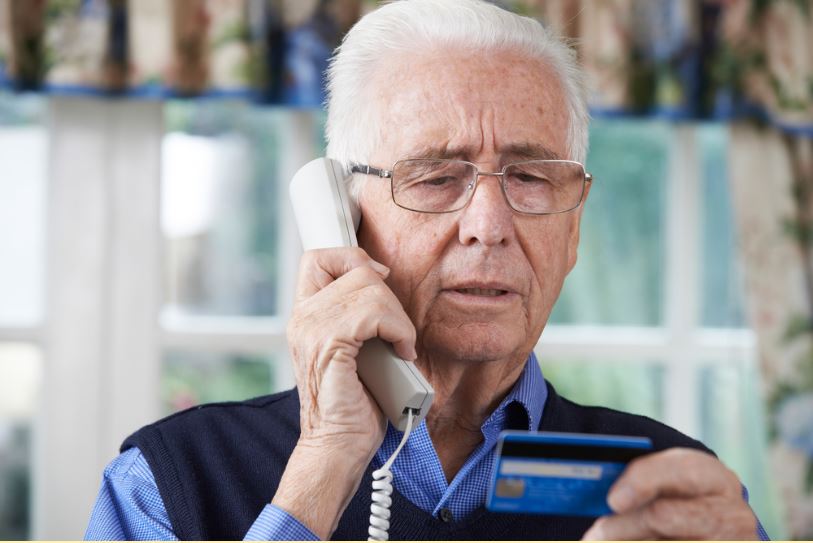 March 22, 2017
The impact of a financial scam can be disastrous, especially for seniors who can no longer work to recoup their losses. Financial exploitation of seniors is devastating and can result in the loss of independence, property, and the ability to afford long-term or elective medical care. Your older loved one deserves to live independently and safely, and to help them age in place, it's important to understand how to prevent financial exploitation and report it if it occurs.
Unfortunately, more than one out of every five seniors will be victimized by predators seeking to take advantage of them financially, according to the Elder Fraud and Financial Exploitation Survey. The impact is both financial and emotional. Seniors who fall prey to financial scammers often suffer from depression, fear, shame, and a significant loss of self-confidence as a result of being scammed.
The best way to protect your loved one is to learn how to recognize the signs of a scam and know what to do if they fall victim to fraud. This guide provides you with the information you need to know about today's most common financial scams and how to prevent the financial exploitation of seniors.
Common Types of Financial Exploitation Against Seniors
Financial scams that target seniors can take many forms, but in most cases, they start out by creating a false sense of urgency that compels seniors to act quickly to avoid "losing out" on an opportunity. Scammers use many different tactics to take advantage of seniors, including:
Lottery, contest, or sweepstakes scams: The scammer contacts the senior and claims that they have won a cash reward. To be able to get the reward, the scammer asks the senior to send them money to pay for taxes due or to cover the charges before the winnings can be distributed. Often, the scammer asks for bank account information to "deposit" the winnings directly, but they will end up leaving the victim empty handed. To learn more about these types of scams, you can read the Better Business Bureau report on Sweepstakes, Lottery, and Prize Scams.
"Grandparent" scams: These scams are usually conducted over the phone. The caller alleges that a grandchild or close friend has been jailed or is in legal trouble and requires an immediate payment to avoid jail or pay legal costs. The scammer does this in the hope that the shock and panic of receiving this call will cause the senior to wire them money quickly to save their family member or friend who isn't really in trouble.
Charity scams: Like the Grandparent Scams, these scams prey on the good nature of others and become more common after disasters like hurricanes, floods, or earthquakes. Charity scams can also take the form of trusted charitable agencies, including funds allegedly benefiting law enforcement or major social service agencies. The scammer almost always requests payment by credit card or through online access to the senior's bank account.
Home repair scams: Most commonly performed door-to-door, a scammer posing as a contractor claims to be offering a special in your neighborhood. They might offer to perform a repair or renovation on the home at a reduced cost using "leftover" materials from another local job. These offers are usually available for a "limited time," increasing the sense of urgency. Driveway sealers use this scam a lot, often selling black paint rather than a true sealant. No reputable contractor would go door-to-door selling unused materials.
Utility scams: Like the home repair scams, the scammer will go door-to-door posing as a repair person. Instead of offering discount repairs, the scammer requests immediate access to the home under the guise of checking a gas leak or a similar serious home repair issue. Once in the home, the scammer may help themselves to valuable items or make observations that can aid in a future burglary.
Credit card or banking scams: While these scams can occur through mail or over the telephone, they most commonly arrive through email in so-called phishing scams.These emails typically claim the senior's bank or credit card company has noticed some unusual activity on their account, or indicate the account has been locked and requires them to verify their information. When the senior clicks on the link in the email, they're taken to an official-looking page where they're asked to enter their username, password, and account information —all of which go directly to the scammer! The ABA Foundation created a guide discussing elderly financial exploitation and what can be done about it.
Tips to Prevent Financial Exploitation of Seniors
Fortunately, although financial scams on seniors are common, they can be avoided with vigilance and a few precautions:
Stay involved. Scammers tend to target seniors who are isolated because they know they're more vulnerable and less likely to have guidance from trusted friends or family members. Stay involved with your loved one and visit them as often as you can. If they need additional assistance or would benefit from companionship, consider hiring an in home caregiver to help around the house.
Invest in a shredder. There are plenty of low-cost shredders on the market that turn bills, credit card offers, other financial documents, and old or unwanted checks into confetti. Invest in one that shreds credit cards to make sure you can safely dispose of your loved one's documents.
Sign up for the Do Not Call list. The National Do Not Call Registry offers a free and easy way to remove your loved one's name from sales and marketing lists. You can opt out of prescreened credit card and insurance mail offers by visiting the Federal Trade Commission website as well.
Never provide any personal information through email. Do not provide your loved one's personal information like Social Security numbers or bank account numbers via email. Instead, if you receive an email that appears to come from a bank, credit card company or retailer, visit the site directly and inquire about the email using the site's secure messaging system.
Do not let unfamiliar people inside the house. Ask to see the credentials of service and repairman to make sure they are from a reputable company. You should also inquire why they are requesting access to the property to check if they are really answering a service call to your loved one's home. If your loved one is too trusting, consider hiring an in home caregiver who can help regulate who comes over to the house and keep you updated on any changes.
If you see suspicious activity, take action.Those who provide care for an elderly loved one should look for signs of unusual activity in checking or credit card accounts, bills going unpaid, missing checks, or fear or other unusual changes in your loved one's behavior. If you see any odd activity or you'd like to report suspected fraud, here are some resources that can help:
Call the AARP Fraud Fighter Call Center at 1-800-646-2283
Visit the Federal Trade Commission to report fraud
Visit the National Adult Protective Services Association for additional resources
We understand that protecting your older loved ones can be difficult. It is hard to stay on top of telemarketer calls, emails, and other potential scams, especially for family members who are already providing care. If you're feeling stressed, remember that you are not alone and there are options out there to help you.
We provide compassionate in home care to help seniors remain independent in their residences. If you would like peace of mind knowing your loved one has trustworthy companionship and home care, contact us.
Need compassionate in home care? We can help.
Contact Us