In-Home Memory Loss, Alzheimer's, and Dementia Care
We understand the difficulties a loved one's memory lapses can have on their entire family. You're all being faced with a lot of unknowns and the necessity to adapt. Regardless of why your loved one is experiencing memory loss, we're here to help. The goal of our caregivers and skilled nurses is to keep your loved one safe, comfortable, and independent in their own home.
Daily Living Assistance to Help Those with Memory Loss Live a Full Life
Accessible Home Health Care's experienced caregivers are here to work with you, answer your questions, and develop a plan that will satisfy your family's changing needs and lead you and your loved ones to a happier, more fulfilling life.
Caregiver Matches Based on Your Individual Memory Care Needs

If you or a family member are beginning to experience signs of memory loss, we work with you to tailor our companion care services to fit your unique needs. Using our Access Match Caregiver Program, we'll pair you with the caregiver that is best for you and your family. Whether you're at the early stages of Alzheimer's or dementia, or are managing age-related memory loss, we are committed to matching you with a knowledgeable caregiver who makes you feel comfortable, happy, and at peace.
Specialized In-home Care
You'll see our dedication to providing personalized, compassionate memory loss care reflected in our certified caregiver commitments.
We Believe In-Home Care for Alzheimer's, Dementia, and Memory Loss Should Be:
Customizable
We offer full-service health care in your own home. We provide both medical and companion care, from hourly to live-in services, giving you the ability to customize your care plan to fit your life. Our plans are also flexible, and can always be modified as your needs change.
Affordable
We believe everyone deserves quality, affordable in-home care. We're committed to working with you so payments are as easy as possible. We are a preferred provider for most long-term insurance companies, and we submit claims on your behalf.
Compassionate
Compassionate care is central to our mission. Our skilled caregivers are passionate about providing you and your family with the highest quality of personalized care, and know we're not just treating illnesses, we're caring for people.
Certified Alzheimer's Caregivers
We believe everyone should be able to age in a familiar, comfortable environment, and not have to uproot their life in their golden years to receive proper medical care and assistance. We focus on providing compassionate care that surpasses industry standards.
Our caregivers understand the changes in personality and behavior that often result from Alzheimer's, and are knowledgeable about the best ways to ease the unpleasant side effects your loved one may be experiencing including anxiety, suspiciousness, agitation, delusions, and hallucinations. We unconditionally provide the highest level of care possible, all within the comfort and familiarity of home.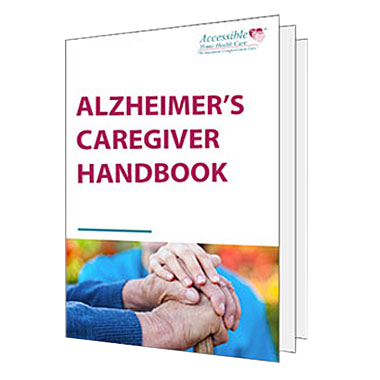 We worked closely with the Alzheimer's Association to write the Alzheimer's Caregiver Handbook. This is a free resource for all families and caregivers supporting a loved one with memory loss.
We train all of our caregivers enabling them to provide the best care for your loved one.

To ensure your loved one receives the most comprehensive, compassionate care possible, our caregivers are trained and certified through our Compassionate Alzheimer's & Loss of Memory Support Program (CALMS). Medical advancements are constantly being made in regards to Alzheimer's, Dementia, and memory loss.
Find a caregiver who can help you grow and maintain a healthy memory today!
Care for Those Living with Dementia
When memory loss has progressed into dementia, seniors may begin to struggle with maintaining their independence. Once simple tasks like paying bills, getting dressed, and going to the grocery store can become increasingly difficult.
Accessible offers both medical and non-medical services, so whether you're looking for a companion to help with everyday tasks or need additional support, like help with injections or catheter management, we'll match you with the right caregiver. We know the right caregiver can help your loved one engage in the activities they love, keep memories alive, and encourage a positive and fulfilling life.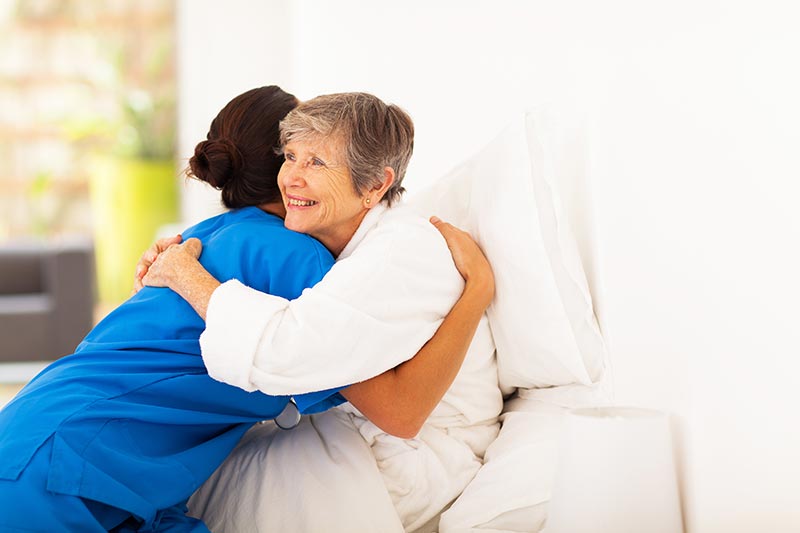 Match with a caregiver who is qualified to help your loved one.

Joint Commission
Our standards and practices are worthy of the Gold Seal of Approval from The Joint Commission, and we strive to have all franchises obtain Joint Commission Accreditation.

AccessSuperiorKare
The act of caring for someone means going above and beyond to ensure their happiness and wellbeing. Our AccessSuperiorKare program (ASK) is designed to provide the ultimate home health care service.

Access Match Caregiver Program
Our caregiver matching program analyzes not only which of our caregivers are best suited to match your family's home care needs, but which ones are the most likely to bond with your loved one on a personal level.