Talk To Us
Our team will listen to your concerns and help you create a plan that fits your family's needs and budget.
Find the Perfect Caregiver
We'll arrange meet & greets with experienced caregivers and match you with someone who truly bonds with your loved one.
Enjoy Your Peace of Mind
Our caregivers are available 24/7 to do more than maintain your loved one's quality of life. They improve it.
In-Home Senior Caregiver Services for the Philadelphia Region
Dementia, Alzheimer's, and Memory Loss Care
Regardless of what is causing your loved one's memory loss, we'll work with you to develop a plan that caters to their specific needs. With in-home speech therapy, assistance with bathing and personal grooming, and companionship services, our compassionate caregivers will provide your loved one with everything they need to help them maintain the highest quality of life.
Learn more about memory loss care
In-Home Companion Care
Our compassionate caregivers are always ready to lend a helping hand! Whether your loved one needs a few hours of company during the day or a live-in home healthcare companion, their caregiver will be someone they look forward to spending time with. Companions assist with light housekeeping, laundry, meal preparation, and provide your loved one with company and conversation.
Learn more about in-home companion care
Chronic or Long-Term Care
When a loved one is living with a chronic condition, such as MS, Parkinson's, or an Autoimmune Disorder, we know how difficult it can be for family members to take on the role of full-time caregivers. You're juggling a thousand different things, but you want the best for your family. So do we! With skilled nurses, medical, and non-medical caregivers, we're committed to providing your loved one with the best possible care without the discomfort of leaving home.
Learn more about long-term care options
In-Home Medical Care
Our Registered Nurses, Nurse Assistants, and Physical Therapists make up just a few of the skilled medical professionals on our fully licensed medical team. They know that compassion is a necessary part of proper medical care. Our senior patients often report higher levels of happiness and faster healing times than they've experienced in hospitals. With in-home medical care, you're receiving personal, attentive, one-on-one care, all within the comfort of your own home.
Learn more about medical care services
If your loved one requires a service you don't see listed here, give us a call! We'll help you find your family's perfect in-home care plan.
In-Home Caregivers Dedicated to Serving Main Line Seniors
We're proud of our caregivers! We think they're the best in the business, and we're not the only ones. See what other families have to say about how our wonderful in-home health care companions helped their loved ones.
Accessible Home Health Care is truly caring and compassionate at a time when you're not at your best. Trying to find reliable care for an aging parent is, to say the least, stressful. The AHC team works to help you through the process, and really tries to get to know their clients, so that they know YOUR issues and concerns - not just random or generic issues and concerns. We will be forever grateful to Accessible for helping us along our journey as we struggled with the constant changes and ever more challenging care circumstances.

-Sandra C.

We highly recommend Accessible Home Health Care to anyone needing assistance at home. Mom did not want to go to a nursing home but wasn't safe to be home alone since her Alzheimer's diagnosis. Jane and her wonderful staff have stepped in to assist mom so she can be at home where she feels most comfortable.

-Bill H.

The caregivers were knowledgeable, kind and compassionate. Highly recommend.

-Martha S.

I highly recommend Accessible Home Health Care. I moved my elderly mother to our home last summer, while I renovated her house for one-floor senior living. At the same time, I had to travel for long periods of time. I interviewed several services, but chose Accessible because I was so impressed with the genuine level of care and concern consistently demonstrated by all of the staff members. They chose such a wonderful caregiver for my mother -- engaging, reliable, safe -- and the agency was so communicative that I never worried when I was away from home. Accessible really helped to make a period of upheaval in our lives much smoother. They are a real asset to our community.

-Anne G.

I want to thank you for helping make my father's life much better during his last eight months. My sister and I could not have done it without your team. Thank you! You can be sure we will recommend your services.

— A.M.

Just wanted to pass on a thank you to all the caregivers from Accessible Home Care that I have worked with so far. Every week someone finds a way to make things more efficient here at Frank and Janet's apartment. Our communications have been great and everyone has been so thoughtful, always anticipating Frank and Janet's needs. We have all been trying to keep Frank from losing his dinner cards, I decided to attach them to a lanyard and hang them by the door. This morning one of the caregivers attached them to his walker--Brilliant! Emma is fantastic, consistent and so caring and Victoria has really established a rapport with Frank. He counts on her at dinner time! Marnis who has been with us in the beginning has shown so much care and commitment, she is very accountable and kind. Thai makes very personal connections with Janet and I always know they are in good hands when she is there. Mary K. is a miracle worker, on top of everything, writes meticulous notes in the log and the apartment is always spotless when she leaves. Thank you!

-Gina C.
Flexible In-Home Health Care Services
Hourly Visits
We offer flexible scheduling for our hourly visits, so you can be sure that your caregiver visits work with your family's schedule. A caregiver can visit with your loved one daily, weekly, or anywhere in between, and can stay for an hour or the entire day. Plus, you can rest easy knowing that we never require commitments or contracts, so you're always able to postpone or cancel services when needed.
Live-in Caregivers
If your loved one needs more constant care, you may want to consider our live-in caregiver option. A live-in companion will provide round-the-clock care, and can assist your loved one as much or as little as they need. Live-in companions are ideal if your loved one has a chronic illness or severe memory loss, but are also excellent for providing your loved one with the assistance they need to remain independent, and providing you peace of mind.
Customized Home Care
Does your loved one need more than one kind of assistance? We're committed to providing you with a stress-free experience, so you never have to worry about finding separate caregivers to provide the care your family needs. Your care plan is fully customizable, so your loved one's needs will always be met.
How We Ensure the Best Care for Philadelphia Area Seniors
Accessible Home Health Care was co-founded by Mirella Salem after she struggled to find compassionate, reliable in-home care for her aging mother. She was frustrated with the lack of consistency and accountability when it came to elder care. We began a public awareness campaign, which we now call our "Patient's Bill of Rights," and actively lobbied for stricter laws governing in-home health care. We want to surpass industry standards, not just meet them, which is why we created three unique programs that ensure every caregiver provides your loved ones with the most compassionate, knowledgeable care.

Access Match Program
We strongly believe that the right caregiver can improve your loved one's quality of life! Through our Access Match Program, we use your loved one's health needs, background, and personality to match them with a caregiver they will look forward to seeing.

AccessSuperiorKare Program
Compassionate care begins with compassionate caregivers! We find the best caregivers and provide them with continuous learning through our ASK program. This ensures that all of our caregivers share the same goals and guidelines for providing the best in home care.

Compassionate Alzheimer's & Loss of Memory Support
Medical advancements are constantly being made in regards to Alzheimer's, Dementia, and memory loss. Our CALMS program provides all of our caregivers with continuous learning so they are knowledgeable and up-to-date, enabling them to provide the best care for your loved one.
Philadelphia Main Line Communities We Serve
Bala Cynwyd

Narberth

Bryn Mawr

Merion

Merion Station

Wynnewood

Philadelphia
Glen Mills

Media

Villanova

Haverford

Ardmore

Havertown

Devon
Malvern

West Chester

King of Prussia

Devon

Gladwyne
Awards AHHC Main Line has Received
Super Starter Achievement Award for Year 2018
Super Starter Achievement Award for Year 2018 was presented  to Cathy and Bill Miller of The Main Line.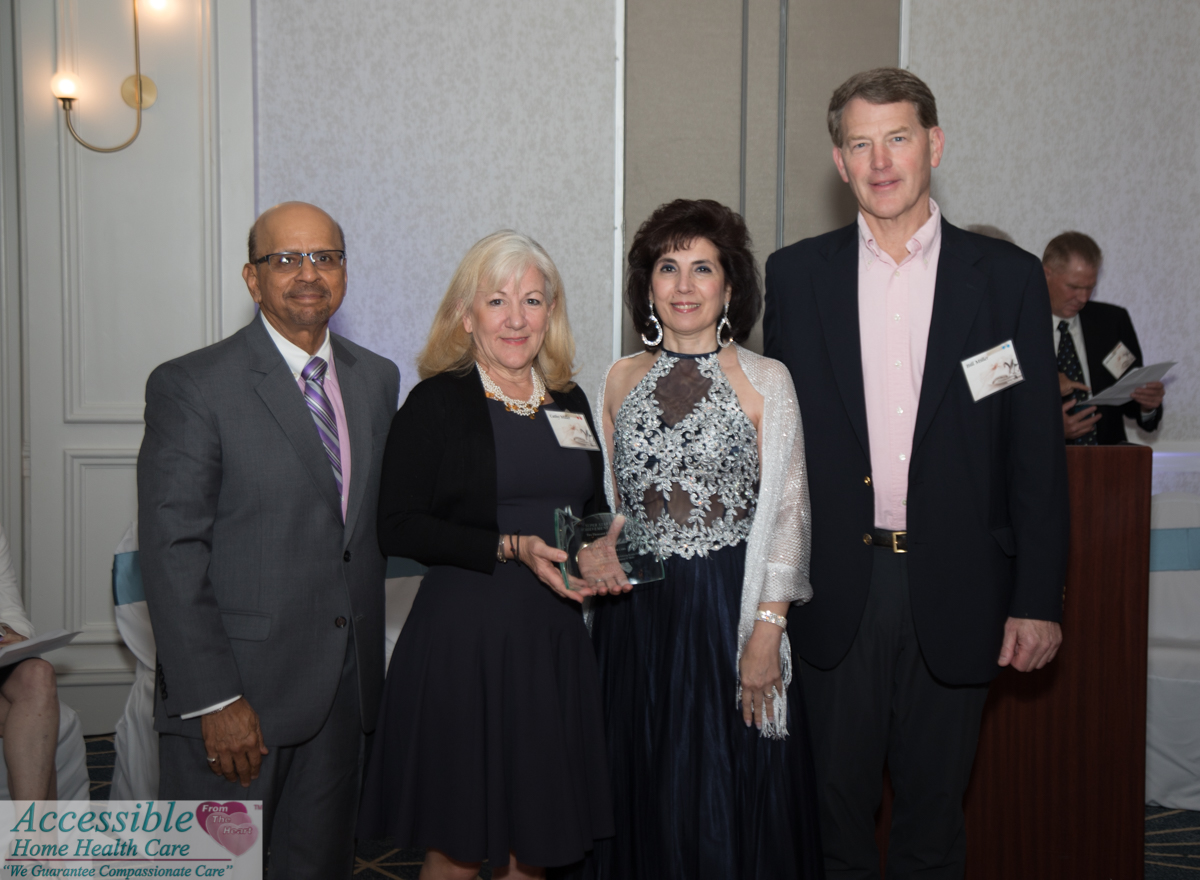 In the photo from left to right: Aarif Dahod, Cathy Miller, Mirella Salem, Bill Miller
The National Association of Women Business Owners'

ATHENA PowerLink® Award

Mrs. Rosette J. Salem Caregiver of the Fourth Quarter of 2017: Manyama Kromah

Mrs. Rosette J. Salem Caregiver of the First Quarter 2017: Latasha Farrell

Accessible Home Health Care's Franchise of the Second Quarter 2016