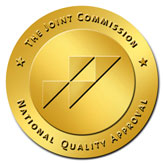 Joint Commission Accredited Agency
Accessible Home Health Care of Palm Beach, Florida is a Joint Commission accredited agency. The Joint Commission's mission is to continuously improve health care for the public by evaluating health care organizations and ensuring they provide safe and effective care of the highest quality and value.
Talk To Us
Our team will listen to your concerns and help you create a plan that fits your family's needs and budget.
Find the Perfect Caregiver
We'll arrange meet & greets with experienced caregivers and match you with someone who truly bonds with your loved one.
Enjoy Your Peace of Mind
Our caregivers are available 24/7 to do more than maintain your loved one's quality of life. They improve it.
Welcome to Accessible Home Health Care of Palm Beach, FL, owned and operated by Adam David and Michael Davret.
In-Home Senior Caregiver Services for Palm Beach, Florida
Alzheimer's, Dementia, and Memory Loss Care
Memory loss can occur for a variety of reasons, including Alzheimer's, Dementia, and age. We can help you develop a plan specific to your loved one's needs. We provide assistance with bathing, running errands, and cooking, as well as therapy and companionship services. We'll make sure your loved one has everything they need to maintain the best quality of life.
Learn more about memory loss care
In-Home Companion Care
With companion care services, a caregiver can spend a few hours with your loved one, or stay 24/7 as a live-in healthcare companion. With our AccessMatch program, you can be sure their caregiver is someone they look forward to seeing. In addition to daily activities like laundry, grocery shopping, and light housekeeping, companions provide company and prevent loneliness.
Learn more about in-home companion care
In-Home Therapy & Nursing
Our fully licensed medical team knows that compassion is a necessary part of providing medical care. With in-home care from our skilled nurses and physical, occupational, and speech therapists, you'll receive personal, attentive, one-on-one care in the comfort of your own home. Like many of our patients, you'll discover a higher level of happiness and quicker healing times than at a facility.
Learn more about medical care services
Additional In-Home Care Services
Our commitment is providing you and your family with the care you need, when you need it, while remaining in the comfort of your own home. Our compassionate caregivers and skilled nurses are trained and certified to provide specialized assistance for all of your in-home health care needs, including respite, child, and elderly care. If there's anything we haven't listed, please give us a call, and one of our friendly team members will help you find the right plan for your family.
Learn more
If your loved one requires a service you don't see listed here, give us a call! We'll help you find your family's perfect in-home care plan.
In-Home Caregivers Dedicated to Serving Palm Beach Seniors
We're proud of our caregivers! We think they're the best in the business, and we're not the only ones. See what other families have to say about how our wonderful in-home health care companions helped their loved ones.
In our experience, Michael and his staff (and the home health care aides they employ) have been uniformly professional, responsive and responsible. In an industry not always known for successful service providers, Accessible stands tall.

-Stephen S.

Recently I was in need of an immediate home aide for a family member in a serious medical situation. I reached out to Accessible Home Health Care of Palm Beach because they came highly recommended from a friend whom had just used their services. I spoke with Adam at AHHC and he was so compassionate and understood the nature and sensitivity of our situation. After putting me at ease, he said he would get back to me as soon he could. Within 20 minutes he had set up immediate 24 hour care at the home of our family member. What is even more impressive is that the aides that were sent from AHHC were fantastic and trustworthy. They were kind, nurturing and attentive to the needs of my family. I could not be more pleased with their services and the quality of their customer service. I will 100% reach out to AHHC if I find myself in need of their services again and would be happy to be a source of referral for them.

-Jordana S.

Thank you for sending Rita to be a caregiver for my husband. She is extremely caring and goes above and beyond. I've hired many agencies and physicians over the years, but never have a felt the need to thank them as I do now. I'm very impressed with the high-caliber caregivers at Accessible Home Health Care of Palm Beach

-Mrs. B.R.
Flexible In-Home Health Care Services
Hourly Visits
We offer flexible scheduling for our hourly visits, so you can be sure that your caregiver visits work with your family's schedule. A caregiver can visit with your loved one daily, weekly, or anywhere in between, and can stay for an hour or the entire day. Plus, you can rest easy knowing that we never require commitments or contracts, so you're always able to postpone or cancel services when needed.
Live-in Caregivers
If your loved one needs more constant care, you may want to consider our live-in caregiver option. A live-in companion will provide round-the-clock care, and can assist your loved one as much or as little as they need. Live-in companions are ideal if your loved one has a chronic illness or severe memory loss, but are also excellent for providing your loved one with the assistance they need to remain independent, and providing you peace of mind.
Customized Home Care
Does your loved one need more than one kind of assistance? We're committed to providing you with a stress-free experience, so you never have to worry about finding separate caregivers to provide the care your family needs. Your care plan is fully customizable, so your loved one's needs will always be met.
How We Ensure the Best Care for Palm Beach Area Seniors
Accessible Home Health Care was co-founded by Mirella Salem after she struggled to find compassionate, reliable in-home care for her aging mother. She was frustrated with the lack of consistency and accountability when it came to elder care. We began a public awareness campaign, which we now call our "Patient's Bill of Rights," and actively lobbied for stricter laws governing in-home health care. We want to surpass industry standards, not just meet them, which is why we created three unique programs that ensure every caregiver provides your loved ones with the most compassionate, knowledgeable care.

Access Match Program
We strongly believe that the right caregiver can improve your loved one's quality of life! Through our Access Match Program, we use your loved one's health needs, background, and personality to match them with a caregiver they will look forward to seeing.

AccessSuperiorKare Program
Compassionate care begins with compassionate caregivers! We find the best caregivers and provide them with continuous learning through our ASK program. This ensures that all of our caregivers share the same goals and guidelines for providing the best in home care.

Compassionate Alzheimer's & Loss of Memory Support
Medical advancements are constantly being made in regards to Alzheimer's, Dementia, and memory loss. Our CALMS program provides all of our caregivers with continuous learning so they are knowledgeable and up-to-date, enabling them to provide the best care for your loved one.
Some of the Palm Beach Communities We Serve
Boca Raton

Delray Beach

Boynton Beach

Lake Worth

Lantana

Greenacres
Atlantis

West Palm Beach

Wellington

Royal Palm Beach

Jupiter

Palm Beach
We provide service to most of the greater Palm Beach area. If you don't see your city listed, give us a call to see if you're in our service area.
Awards AHHC Palm Beach has Received
2018 Medicare Services Award of Excellence
We received the 2018 Medicare Services Award of Excellence for achieving the highest standard of delivering Medicare services to our patients, with a CMS Home Health Compare Rating Stars of 4.5 to 5  for three consecutive years.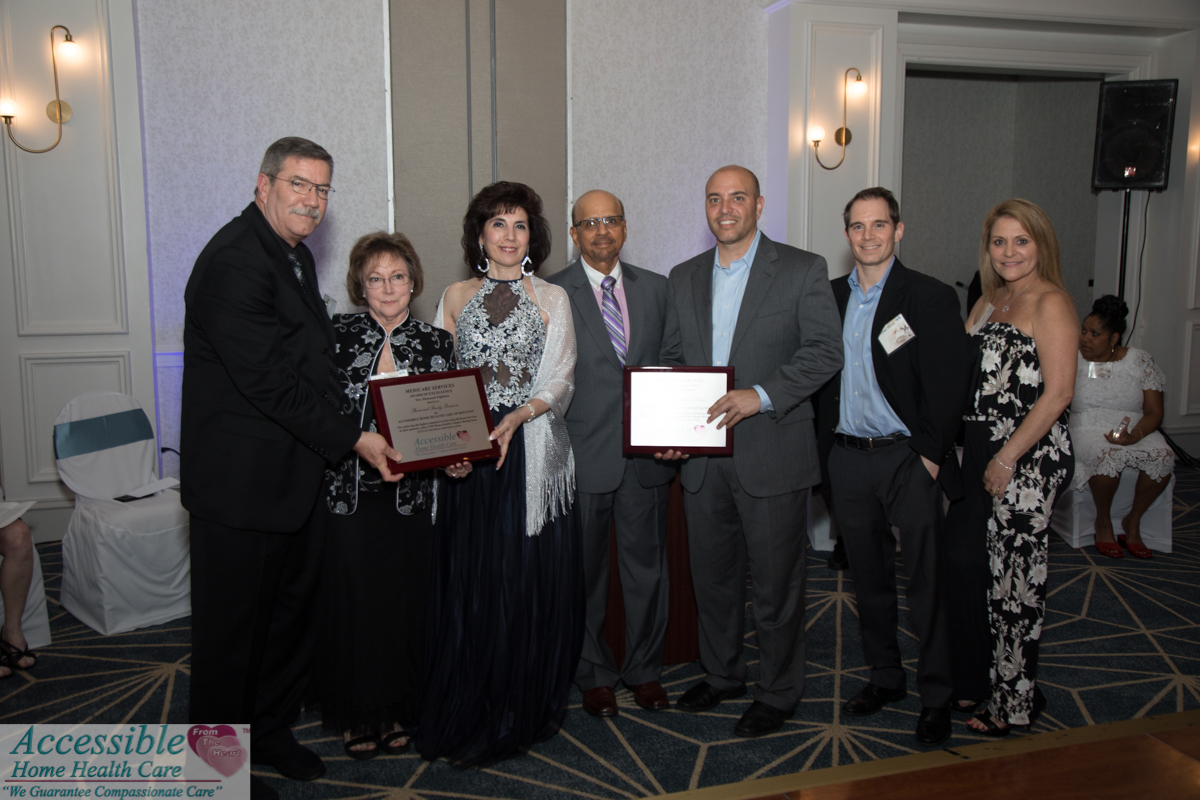 In the photo from left to right: Randy Paramore, Sheree Paramore, Mirella Salem, Aarif Dahod, Adam David, Michael Davret, Tammi LaRocca

Awards AHHC Palm Beach has Received
Franchise of the Fourth Quarter 2018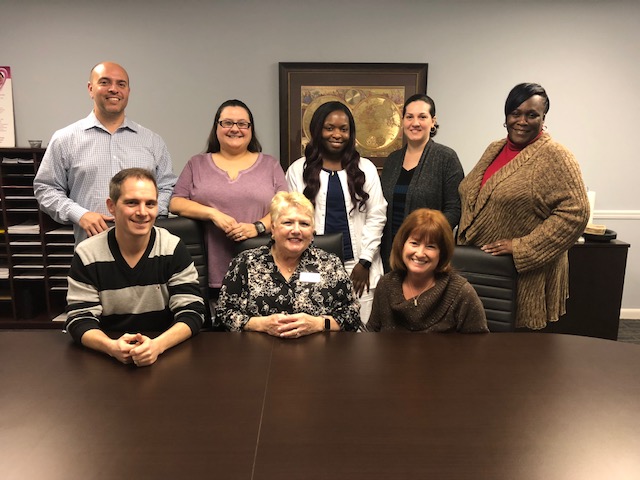 Standing from left to right: Adam David, Claudia Casimiro, Nancy Pierre, Liz Pientka, Eugenia Hanna Sitting from left to right Michael Davret, Maureen Burke, Peggy Bailey
Award of Excellence 2016:
We were recognized by the Accessible Home Health Care Corporate Team for our excellent service and commitment to providing compassionate in-home health care to seniors living in Palm Beach, Florida.
The AHHC Palm Beach, Florida Leadership Team
A part of Palm Beach County for years, our care team feels deeply connected to the wellbeing of our local community and the seniors that live there. We're dedicated to providing compassionate care to help Palm Beach seniors remain active in their communities and independent in their own homes.
Josephine Madden
Director of Clinical Services and Registered Nurse
With over 25 years of experience as a nurse, Josephine has home care knowledge that is second to none. She oversees all the nurses, therapists, and home health caregivers that work with our patients. As a compassionate and caring individual, Josephine makes sure every patient at Accessible Home Health Care of Palm Beach gets the quality of care they deserve to remain independent in their own loving homes.
Rita Mellul
Field Staff Care Manager and Registered Nurse
Rita has been part of Accessible Home Health Care of Palm Beach for over three years and is dedicated to the quality of care our patients receive. She not only oversees referral opportunities but travels to meet with patients in person. Every patient who has worked with Rita trusts her, and they often call her after we finish providing care because they feel she has become a part of their family.