Talk To Us
Our team will listen to your concerns and help you create a plan that fits your family's needs and budget.
Find the Perfect Caregiver
We'll arrange meet & greets with experienced caregivers and match you with someone who truly bonds with your loved one.
Enjoy Your Peace of Mind
Our caregivers are available 24/7 to do more than maintain your loved one's quality of life. They improve it.
Welcome to Accessible Home Health Care of Naples, owned and operated by Trisha Silver.
In-Home Senior Caregiver Services for the City of Naples
Alzheimer's, Dementia, and Memory Loss Care
We know how hard memory loss can be on the person experiencing it and their family. Once simple tasks like bathing, running errands, and cooking can become almost impossible to do without assistance. We're here to help! Our goal is to make sure your loved one is comfortable and cared for, so we'll do everything we can to assist them and improve their quality of life.
In-Home Companion Care
In-home companion care provides your loved one with company and engaging conversation and prevents loneliness. Our caregivers can also provide assistance with light housekeeping, laundry, and meal preparation, and can visit for a few hours, or stay 24/7 as a live-in companion. We use a unique caregiver matching system that ensures your loved one has a caregiver they both feel comfortable and look forward to spending time with.
In-Home Respite Care
Caring for a family member is an incredibly rewarding experience, but you should never have to do it alone. Being the sole caretaker quickly leads to burnout and can impact your own health and wellness. It's impossible to provide proper care for someone else when you're not well yourself. We're here to make things less stressful and help you take care of your family.
Additional In-Home Care Services
Our caregivers, CNA's, and Home Health Aides are committed to caring for your family's specific needs. We're dedicated to providing you and your family with attentive, one-on-one, compassionate care. Our caregivers and home health aides are trained and certified to help with a variety of ailments, so if you're in search of a service we haven't listed here, please give us a call, and we'll find a way to help.
If your loved one requires a service you don't see listed here, give us a call! We'll help you find your family's perfect in-home care plan.
In-Home Caregivers Dedicated to Serving Seniors of Naples, Florida
We're proud of our caregivers! We think they're the best in the business, and we're not the only ones. See what other families have to say about how our wonderful in-home health care companions helped their loved ones.
This is an excellent agency. They have been providing home health care services for my mother for years and are so accommodating. The owner, Trish responds immediately when contacted and she is very warm and understanding of the particular needs of the elderly. The workers are well trained, trustworthy, and punctual. I would (and have) recommend this company to anyone that needs these services.

-Mary S.

We utilized Accessible Home Health Care when our Dad needed help with every day living due to memory loss. He was 93. Everyone from Accessible was very kind, very caring & very patient. They took a genuine interest in our Dad's needs & wants - as well as ours. They did their utmost to fulfill every request. It was comforting to know that Trisha & her staff were there to help us.

-Carol M.

The caregivers are very compassionate and caring given the sometimes difficult situations that arise when dealing with clients that have dementia or Alzheimer's. They are prompt and reliable and are willing to do whatever it takes to make the client comfortable. I am very happy I found Accessible and am pleased with the care my mother receives.

-J.K.
Flexible In-Home Health Care Services
Hourly Visits
We offer flexible scheduling for our hourly visits, so you can be sure that your caregiver visits work with your family's schedule. A caregiver can visit with your loved one daily, weekly, or anywhere in between, and can stay for an hour or the entire day. Plus, you can rest easy knowing that we never require commitments or contracts, so you're always able to postpone or cancel services when needed.
Live-in Caregivers
If your loved one needs more constant care, you may want to consider our live-in caregiver option. A live-in companion will provide round-the-clock care, and can assist your loved one as much or as little as they need. Live-in companions are ideal if your loved one has a chronic illness or severe memory loss, but are also excellent for providing your loved one with the assistance they need to remain independent, and providing you peace of mind.
Customized Home Care
Does your loved one need more than one kind of assistance? We're committed to providing you with a stress-free experience, so you never have to worry about finding separate caregivers to provide the care your family needs. Your care plan is fully customizable, so your loved one's needs will always be met.
How We Ensure the Best Care for Seniors in Southwestern Florida
Accessible Home Health Care was co-founded by Mirella Salem after she struggled to find compassionate, reliable in-home care for her aging mother. She was frustrated with the lack of consistency and accountability when it came to elder care. We began a public awareness campaign, which we now call our "Patient's Bill of Rights," and actively lobbied for stricter laws governing in-home health care. We want to surpass industry standards, not just meet them, which is why we created three unique programs that ensure every caregiver provides your loved ones with the most compassionate, knowledgeable care.

Access Match Program
We strongly believe that the right caregiver can improve your loved one's quality of life! Through our Access Match Program, we use your loved one's health needs, background, and personality to match them with a caregiver they will look forward to seeing.

AccessSuperiorKare Program
Compassionate care begins with compassionate caregivers! We find the best caregivers and provide them with continuous learning through our ASK program. This ensures that all of our caregivers share the same goals and guidelines for providing the best in home care.

Compassionate Alzheimer's & Loss of Memory Support
Medical advancements are constantly being made in regards to Alzheimer's, Dementia, and memory loss. Our CALMS program provides all of our caregivers with continuous learning so they are knowledgeable and up-to-date, enabling them to provide the best care for your loved one.
Naples Communities We Serve
Naples

Pelican Bay

East Naples

North Naples

Golden Gate
If you don't see your city listed, please give us a call to see if you're in our service area.
Awards AHHC Naples has Received
Above and Beyond Award for 2017: Trisha Silver
The Above and Beyond Award for 2017 was presented to Trisha Silver, owner of Accessible Home Health Care of Naples, for her hard work, perseverance, and dedication to providing continuous compassionate care.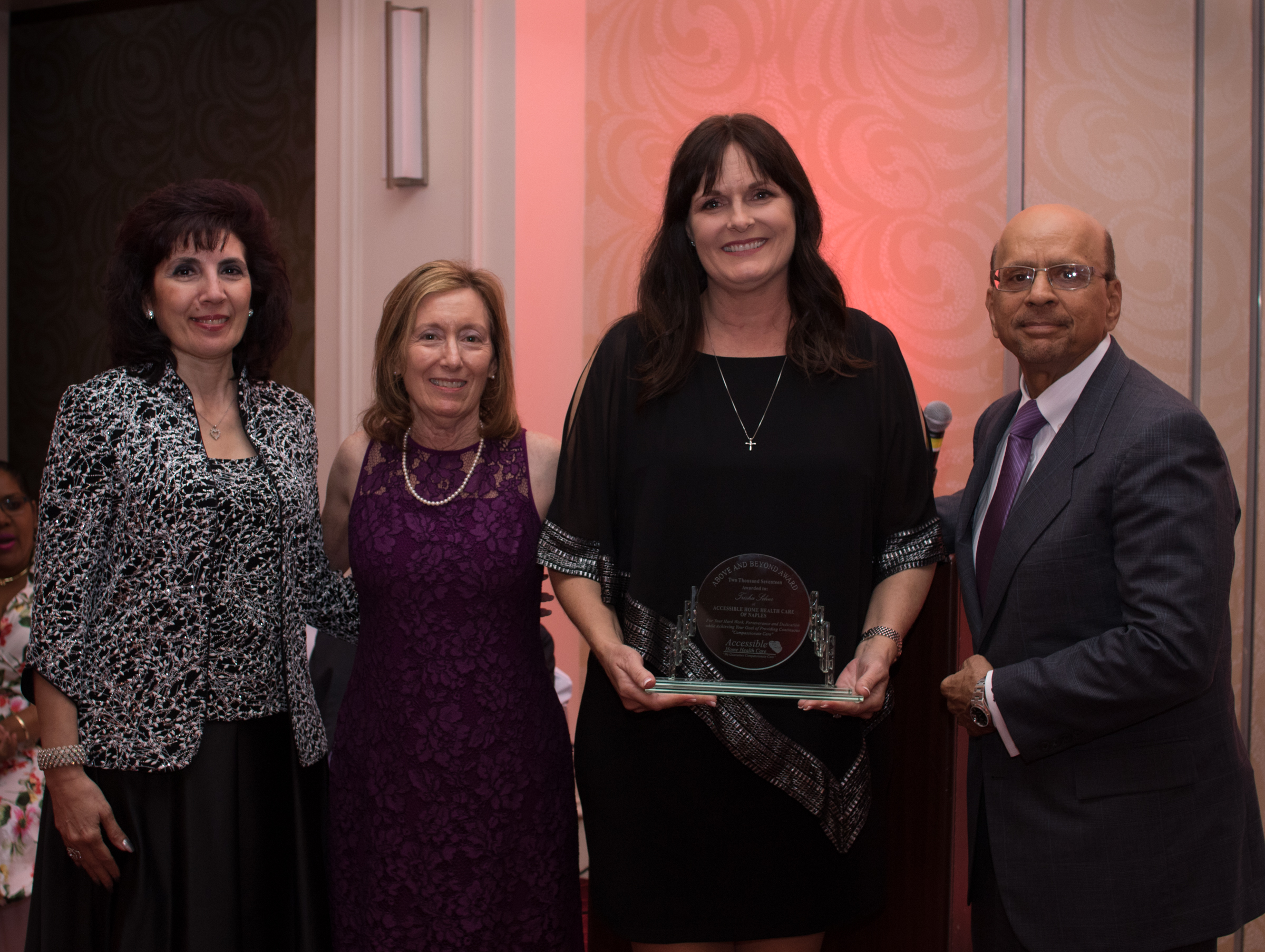 Trisha Silver (middle) receiving the Above and Beyond Award for 2017 from Mirella Salem (left), President & Co-Founder, Cheryl Rager, Executive Director Quality Assurance, and Aarif Dahod (right), CEO.
Mrs. Rosette J. Salem Caregiver of the Year 2017: 

Angella Thompson

Mrs. Rosette J. Salem Caregiver of the Year Franchise 2017

Mrs. Rosette J. Salem Caregiver of the Third Quarter 2017: Angella Thompson

Franchise of the First Quarter 2016