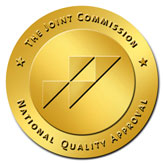 Joint Commission Accredited Agency
Accessible Home Health Care of Aventura, Florida is a Joint Commission accredited agency. The Joint Commission's mission is to continuously improve health care for the public by evaluating health care organizations and ensuring they provide safe and effective care of the highest quality and value.
Talk To Us
Our team will listen to your concerns and help you create a plan that fits your family's needs and budget.
Find the Perfect Caregiver
We'll arrange meet & greets with experienced caregivers and match you with someone who truly bonds with your loved one.
Enjoy Your Peace of Mind
Our caregivers are available 24/7 to do more than maintain your loved one's quality of life. They improve it.
Welcome to Accessible Home Health Care of Aventura, Florida, owned and operated by Ali Mandsaurwala.
Miami-Dade In-Home Senior Caregiver Services
Alzheimer's, Dementia, and Memory Loss Care
We're experienced with all forms of memory loss: age-related, Alzheimer's, and Dementia. We can help you find a caregiver who will understand and care for your loved one's individual needs. We know the difficulties of having a family member with memory loss, but we're here to help, and will do everything we can to maintain a great quality of life for both you and your loved one.
Learn more about memory loss care
In-Home Companion Care
Our in-home companions are here to care for all of your family's non-medical needs. Our experienced caregivers provide company and prevent loneliness, as well as assist with daily activities like bathing, shopping, and transportation. Our AccessMatch caregiver matching program assures that your loved one's companion will be someone they look forward to seeing, whether they're a visiting caregiver or a live-in companion.
Learn more about in-home companion care
In-Home Respite Care
We know that family caregivers put incredible love and dedication into what they do. While caring for family is a rewarding experience, you should never attempt to handle all caretaking responsibilities by yourself. Sacrificing your own health and wellness makes it impossible for you to provide your loved one with proper care. We're honored to help you provide that care for your family.
Learn more about respite care
Additional In-Home Care Service
All of our caregivers are dedicated to providing you and your family with the compassionate care you need, when you need it, within the comfort of your own home. Committed to caring for your family's individual needs, we offer non-medical services for every stage of life. If you're interested in our infant, child, or senior care services, or in something you don't see listed, please give us a call, and we'll find a caregiver who can help.
Learn more
If your loved one requires a service you don't see listed here, give us a call! We'll help you find your family's perfect in-home care plan.
In-Home Caregivers Dedicated to Serving Miami-Dade County Seniors
We're proud of our caregivers! We think they're the best in the business, and we're not the only ones. See what other families have to say about how our wonderful in-home health care companions helped their loved ones.
Our Aunt Mildred went downhill pretty fast and none of our family members were about to put her in a home. We wanted her to be comfortable and with someone we could trust. When the researching began for Home Health Care (which can be a pain) and found Accessible Home Health Care of Aventura we knew right away the search was over. Josh Laurence was very attentive and handled every question we had--we were so at ease. We highly recommend their services and Josh will help steer you in the right direction. You won't be disappointed and the prices are also very reasonable as well! They go above and beyond making their client happy and I would never go with anyone else. Thanks so much for the best quality care!

-Michelle R.

I traveled from Byron, Georgia to Miami, Florida to have a surgical procedure done. I was very nervous about my post-op recovery because I didn't know who would assist me. I reached out to a relative that referred Accessible Home Health Care of Aventura to me. I called the office late that Friday evening and explained that I just had surgery and was in dire need of assistance. The young lady Chloe assured me she would get help for me right away. I honestly thought I wouldn't get a call back since it was short notice and I called right before closing. Surprisingly, she called me back in about 15-20 mins with the news that she had a caregiver that would be reporting me to in the next hour. That news was such a relief! Nurse Valrie was prompt as Chloe promised and she was such a nice caring individual. In addition, I would say she went above and beyond. Ms. Valrie was certainly an excellent representative for this company. The overall services from placing the first call, down to the care I received was fantastic! Without a doubt, I highly recommend using this company. Also, I would like to say thanks to Chloe for assisting me in such an expedient manner. I appreciate that immensely!

-Sereetta L

In October my mother's decades-long chronic illness turned critical and she finally qualified for coverage by her long-term care insurance, but only through a certified agency. Her dearly trusted private home health aide – who for years helped my mother 2 days a week – recommended Joshua Laurence and Accessible Health Care of Aventura. My mother's aid became an employee of Accessible so my mother could keep her, rather than work with someone new, and she could utilize her insurance. Joshua couldn't have been kinder and more helpful. He guided me through the entire lengthy claim process, and did everything to make this as seamless and smooth as possible. He was always easily reachable, even on weekends, and always respectful and responsive. He even offered several times to run errands, totally unrelated to our business dealings, knowing that I would be returning to my home in NY at some point. It's unusual that I have no complaints. In this case, though, I only have praise and gratitude for Joshua and his team at Accessible Health Care of Aventura.

-Samuel B.

Working with Josh and Ali at Accessible Home Health Care of Aventura was truly like having an angel by my side. My grandfather was declining and we knew we needed some personal in-home care. These were the guys for the job! Their expertise and professional staff gave my grandfather the best last few years of his life. The quality of his life improved tremendously with the care he was given by caregivers that were passionate and poured their heart and soul into caring for my grandfather. I highly recommend Accessible Home Health Care of Aventura for anyone who needs home health care services! Ask for Ali or Josh and that's exactly who you will get to speak to when you call.

-Jessica P.

Proper care is really difficult to find but it is possible! Here at Miami Aesthetic we specialize in top of the line Plastic Surgery and we pride ourselves in providing the best care possible to our patients. Patient Care is a priority for us and after meeting with multiple companies, Accessible Home Health Care blew us away. They have wonderfully trained staff that accommodate to our specifications and cater to each and every one of our patients individually. The level of organization and professionalism is something that to us is priceless and also the attention and patient care is worth recommendation. They are available to us at all times and their response time is ALWAYS prompt. We feel safe and proud to offer their care to our patients and we go home knowing they will be in great hands during their recovery period. Thank you for a wonderful partnership and we hope to be able to maintain it for years and years to come!

-Alexa R.
Flexible In-Home Health Care Services
Hourly Visits
We offer flexible scheduling for our hourly visits, so you can be sure that your caregiver visits work with your family's schedule. A caregiver can visit with your loved one daily, weekly, or anywhere in between, and can stay for an hour or the entire day. Plus, you can rest easy knowing that we never require commitments or contracts, so you're always able to postpone or cancel services when needed.
Live-in Caregivers
If your loved one needs more constant care, you may want to consider our live-in caregiver option. A live-in companion will provide round-the-clock care, and can assist your loved one as much or as little as they need. Live-in companions are ideal if your loved one has a chronic illness or severe memory loss, but are also excellent for providing your loved one with the assistance they need to remain independent, and providing you peace of mind.
Customized Home Care
Does your loved one need more than one kind of assistance? We're committed to providing you with a stress-free experience, so you never have to worry about finding separate caregivers to provide the care your family needs. Your care plan is fully customizable, so your loved one's needs will always be met.
How We Ensure the Best Care for Seniors in Southeastern Florida
Accessible Home Health Care was co-founded by Mirella Salem after she struggled to find compassionate, reliable in-home care for her aging mother. She was frustrated with the lack of consistency and accountability when it came to elder care. We began a public awareness campaign, which we now call our "Patient's Bill of Rights," and actively lobbied for stricter laws governing in-home health care. We want to surpass industry standards, not just meet them, which is why we created three unique programs that ensure every caregiver provides your loved ones with the most compassionate, knowledgeable care.

Access Match Program
We strongly believe that the right caregiver can improve your loved one's quality of life! Through our Access Match Program, we use your loved one's health needs, background, and personality to match them with a caregiver they will look forward to seeing.

AccessSuperiorKare Program
Compassionate care begins with compassionate caregivers! We find the best caregivers and provide them with continuous learning through our ASK program. This ensures that all of our caregivers share the same goals and guidelines for providing the best in home care.

Compassionate Alzheimer's & Loss of Memory Support
Medical advancements are constantly being made in regards to Alzheimer's, Dementia, and memory loss. Our CALMS program provides all of our caregivers with continuous learning so they are knowledgeable and up-to-date, enabling them to provide the best care for your loved one.
Some of the Miami-Dade and Monroe Communities We Serve
Aventura

Golden Beach

Sunny Isles Beach

Bay Harbor

Bal Harbour

Coral Gables
Surfside

Miami Beach

Coconut Grove

South Miami

Pinecrest
North Miami Beach

North Miami

Key Biscayne

Miami Lakes

Kendall
We provide service to most of the greater Miami-Dade and Monroe area. If you don't see your city listed, please give us a call to see if you're in our service area.
Awards AHHC Aventura has Received
AHHC Franchise of the Year 2018
Ali Mandsaurwala, owner of Accessible Home Health Care of Aventura (middle) accepting the Franchise of the Year 2018 Award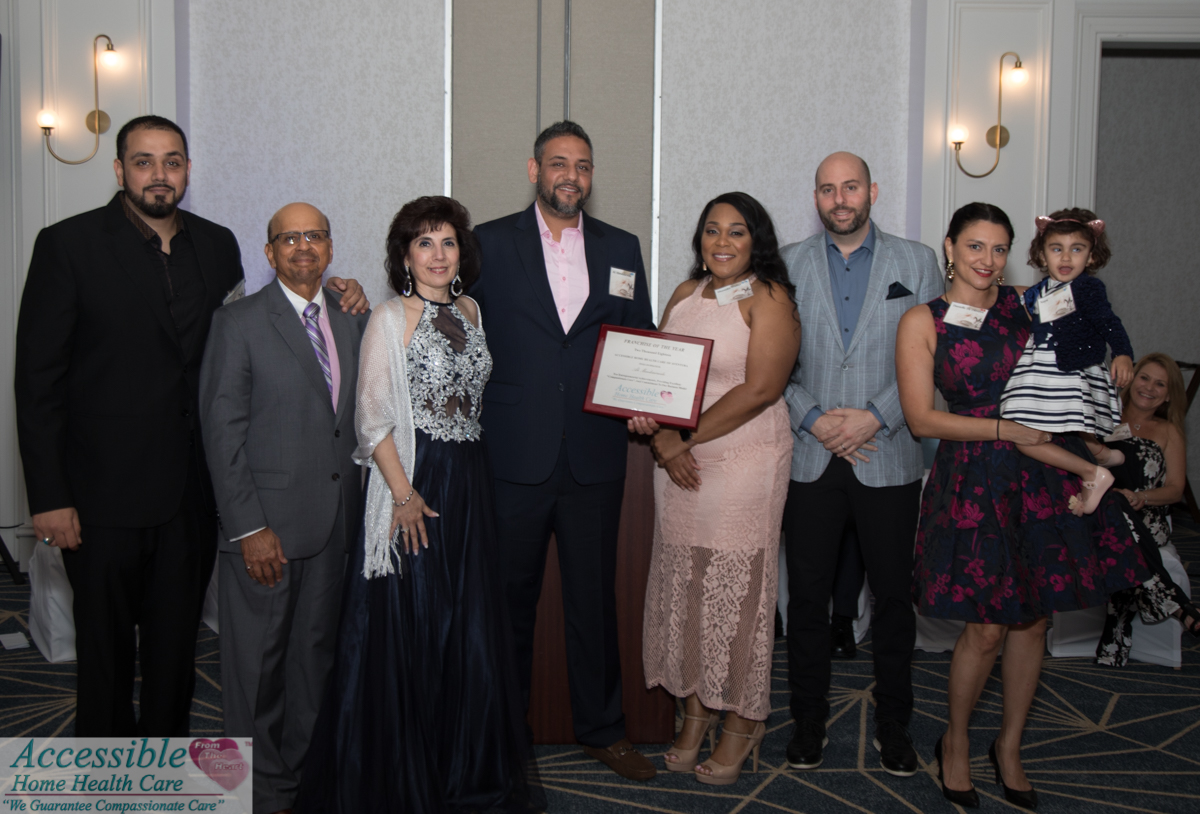 (from left to right: Sha Mandsaurwala, Aarif Dahod, Mirella Salem, Ali Mandsaurwala (owner), Chloe McQueen, Joshua Laurence, Daniella Mandsaurwala, Naaya Ali Mandsaurwala
Franchise of the Third Quarter 2018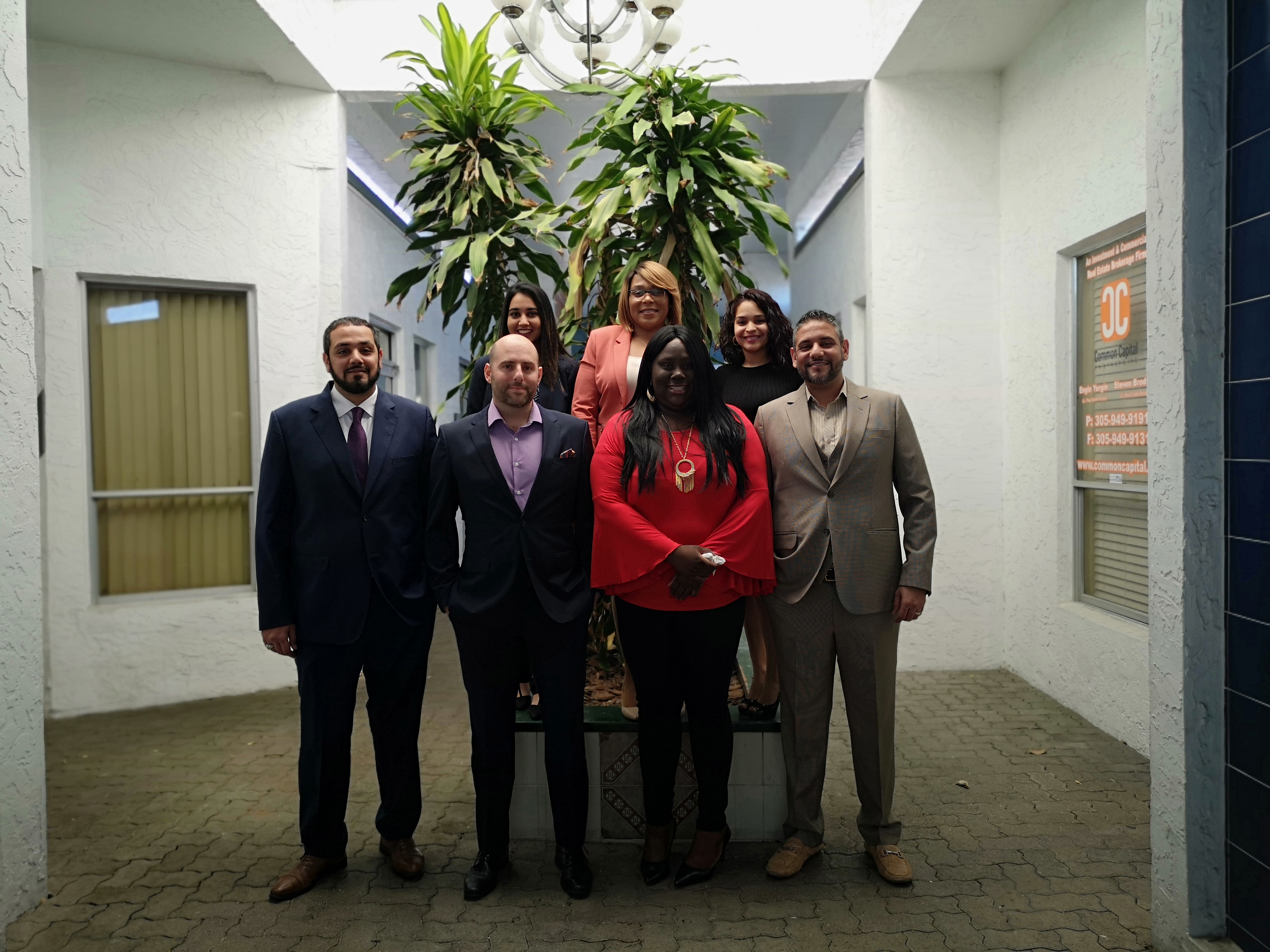 Front Row from left to right: Sha Mandsaurwala, Joshua Laurence, Chloe McQueen, Ali Mandsaurwala Back Row from left to right: Haniya Syed, Shameka Wallace, Katherine Mendez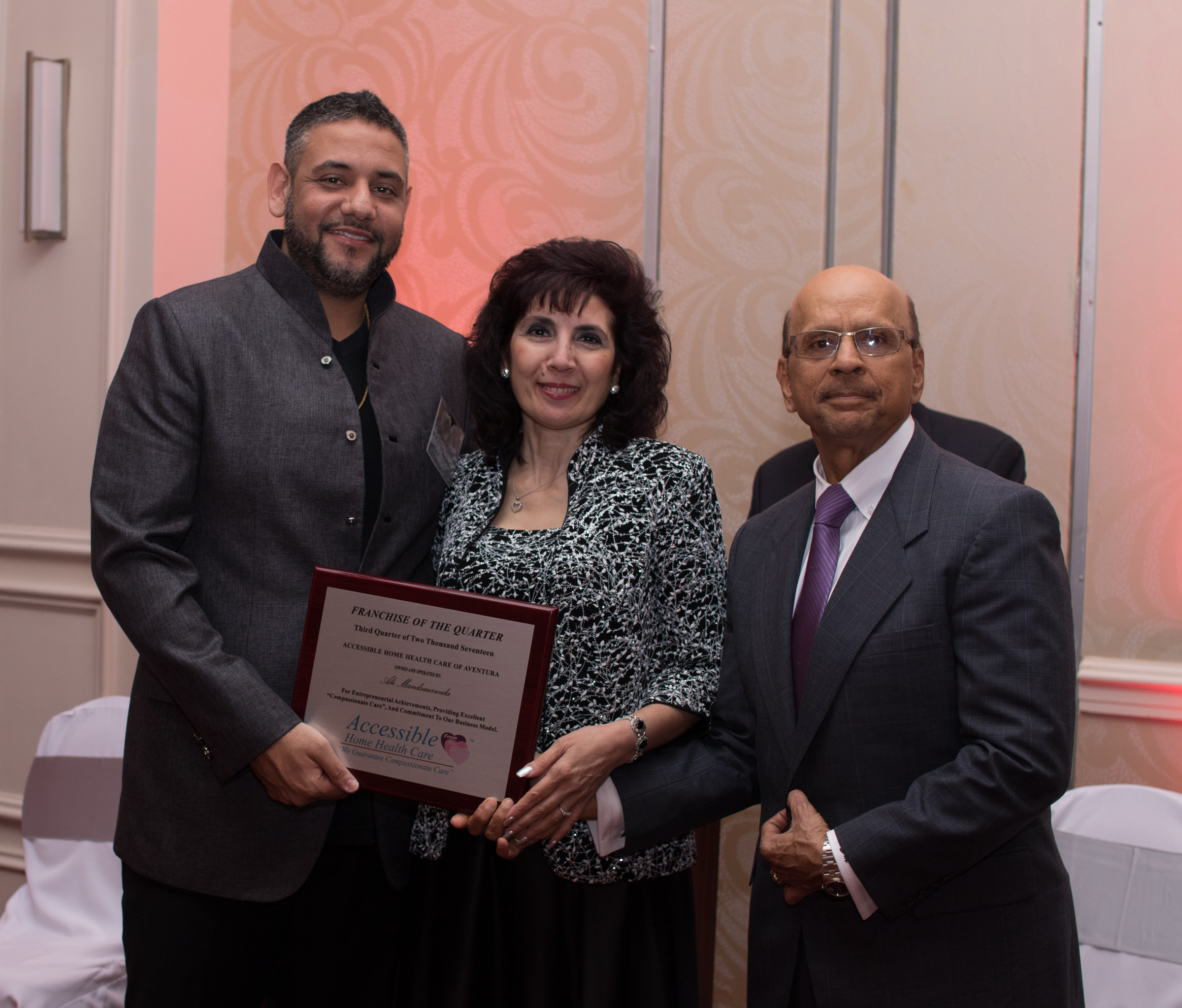 Ali Mandsaurwala (left) receiving the Franchise of the Third Quarter 2017 Award from Mirella Salem (middle), President & Co-Founder, and Aarif Dahod (right), CEO.
SER-Jobs for Progress, Inc.'s Certificate of Appreciation for Community Dedication

Accessible Home Health Care's Franchise of the Third Quarter 2017

Accessible Home Health Care's

Support Team Member of the Year Award 2016:




Josh Laurence
The AHHC Aventura, Florida Leadership Team
Having personally grown up and lived in Florida for years, our care team feels a deep connection to our local community. We are ready to help seniors in our community receive the compassionate home care they deserve.
Ali Mandsaurwala
President
Having moved to Miami Beach at the tender age of three, Ali has always felt connected to his local Florida community. He strives to provide compassionate in-home care to families and seniors to better the quality of their lives. Currently, Ali resides in North Miami Beach with his wife and daughter.
Josh Laurence
Vice President
Josh is a local and attended school around Miami Beach, Florida. He and his wife are involved in the community and are members of Temple Beth Sholom in Miami Beach and Temple Beth Am in Pinecrest. Josh recently received the Support Team Member of the Year Award for his dedication to Accessible Home Health Care of Aventura.
Chloe Mcqueen
Director of Operations
Chloe grew up in Jacksonville, Florida. She is dedicated to ensuring seniors and their families receive the compassionate care they need and deserve. Chloe has been part of our care team since its inception, and many of our clients have come to depend on her. Currently, Chloe resides in North Miami with her family.