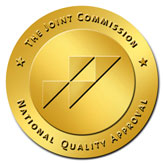 Joint Commission Accredited Agency
Accessible Home Health Care of Northern New Jersey is a Joint Commission accredited agency. The Joint Commission's mission is to continuously improve health care for the public by evaluating health care organizations and ensuring they provide safe and effective care of the highest quality and value.
Talk To Us
Our team will listen to your concerns and help you create a plan that fits your family's needs and budget.
Find the Perfect Caregiver
We'll arrange meet & greets with experienced caregivers and match you with someone who truly bonds with your loved one.
Enjoy Your Peace of Mind
Our caregivers are available 24/7 to do more than maintain your loved one's quality of life. They improve it.
Welcome to Accessible Home Health Care of Northern New Jersey, owned and operated by Kruti and Sameer Jani.
In-Home Senior Caregiver Services for Essex, Passaic, Bergen, and Morris County Seniors
Alzheimer's, Dementia, and Memory Loss Care
We understand how difficult memory loss can be on a family. Whether it's a result of age, Alzheimer's, or Dementia, once simple tasks like cooking, bathing, or tidying up can become increasingly difficult for your loved one to do on their own. Our compassionate caregivers are here to lend a helping hand and promise to assist your loved one while maintaining their comfort, dignity, and independence.
Learn more about memory loss care
In-Home Companion Care
An in-home companion can visit for a few hours a week, every day, or round the clock as a live-in home health care companion. They'll assist with daily activities like preparing meals and running errands, and they also provide company and prevent loneliness. Plus, with our AccessMatch program, you can be sure your loved one's caregiver is someone they look forward to seeing and enjoy spending time with.
Learn more about companion care
In-Home Respite Care
Family caregivers put tremendous love and devotion into what they do. Too often though, in focusing on the health of a loved one, it becomes easy to neglect our own. You should never have to handle all of this alone. Our caregivers understand that and are here to remind you your own health matters, help you avoid burnout, and encourage a path to wellness that focuses on optimal quality of life for both you and your loved ones.
Learn more about respite care
Additional In-Home Care Services
Accessible Home Health Care is committed to providing families with the compassionate care they need, on their schedule. Our caregivers provide attentive, one-on-one, personalized care within the comfort of your own home. If there is a non-medical service that you don't see listed, just give us a call, and we'll work with you to find a service that fits your needs.
Learn more
If your loved one requires a service you don't see listed here, give us a call! We'll help you find your family's perfect in-home care plan.
Flexible In-Home Health Care Services
Hourly Visits
We offer flexible scheduling for our hourly visits, so you can be sure that your caregiver visits work with your family's schedule. A caregiver can visit with your loved one daily, weekly, or anywhere in between, and can stay for an hour or the entire day. Plus, you can rest easy knowing that we never require commitments or contracts, so you're always able to postpone or cancel services when needed.
Live-in Caregivers
If your loved one needs more constant care, you may want to consider our live-in caregiver option. A live-in companion will provide round-the-clock care, and can assist your loved one as much or as little as they need. Live-in companions are ideal if your loved one has a chronic illness or severe memory loss, but are also excellent for providing your loved one with the assistance they need to remain independent, and providing you peace of mind.
Customized Home Care
Does your loved one need more than one kind of assistance? We're committed to providing you with a stress-free experience, so you never have to worry about finding separate caregivers to provide the care your family needs. Your care plan is fully customizable, so your loved one's needs will always be met.
How We Ensure the Best Care for Seniors in New Jersey's Northern Counties
Accessible Home Health Care was co-founded by Mirella Salem after she struggled to find compassionate, reliable in-home care for her aging mother. She was frustrated with the lack of consistency and accountability when it came to elder care. We began a public awareness campaign, which we now call our "Patient's Bill of Rights," and actively lobbied for stricter laws governing in-home health care. We want to surpass industry standards, not just meet them, which is why we created three unique programs that ensure every caregiver provides your loved ones with the most compassionate, knowledgeable care.

Access Match Program
We strongly believe that the right caregiver can improve your loved one's quality of life! Through our Access Match Program, we use your loved one's health needs, background, and personality to match them with a caregiver they will look forward to seeing.

AccessSuperiorKare Program
Compassionate care begins with compassionate caregivers! We find the best caregivers and provide them with continuous learning through our ASK program. This ensures that all of our caregivers share the same goals and guidelines for providing the best in home care.

Compassionate Alzheimer's & Loss of Memory Support
Medical advancements are constantly being made in regards to Alzheimer's, Dementia, and memory loss. Our CALMS program provides all of our caregivers with continuous learning so they are knowledgeable and up-to-date, enabling them to provide the best care for your loved one.
Some of the Communities We Serve
Morristown

Denville

Parsippany

Whippany

Montville
Livingston

West Orange

Wayne

Short Hills

Millburn
Hawthorne

Teaneck

Paramus

Hackensack

West Paterson
We provide service to most of North Jersey. If you don't see your city listed, give us a call to see if you're in our service area.