Talk To Us
Our team will listen to your concerns and help you create a plan that fits your family's needs and budget.
Find the Perfect Caregiver
We'll arrange meet & greets with experienced caregivers and match you with someone who truly bonds with your loved one.
Enjoy Your Peace of Mind
Our caregivers are available 24/7 to do more than maintain your loved one's quality of life. They improve it.
Welcome to Accessible Home Health Care of Frederick & Washington Counties, owned and operated by David and Carmen Kukor, RN.
In-Home Senior Caregiver Services for Western Maryland Seniors
Alzheimer's, Dementia, and Memory Loss Care
When a loved one begins to experience memory lapses, whether due to age, Dementia, or Alzheimer's, we know how difficult things can be on your whole family. We're here to help you develop a perfect care plan for your loved one, and will do everything we can to keep them safe, comfortable, and independent in their own homes.
Learn more about memory loss care
In-Home Companion Care
Whether your loved one needs a few hours of company throughout the day, or a live-in home healthcare companion to stay with them 24/7, one of our compassionate caregivers can lend a helping hand! Our difference is our AccessMatch program, which matches your loved one with an in-home caregiver they'll look forward to seeing and spending time with.
Learn more about companion care
In-Home Respite Care
Caring for an ill or disabled family member can be a deeply rewarding experience. A lot of love and devotion goes into the care you provide, but we often take on more responsibilities than we can handle, and our own health begins to suffer. Burnout isn't good for you or your family. Our compassionate caregivers want to provide you with relief and assistance, so you can avoid burnout, and you and your family can live your best quality of life.
Learn more about respite care
Additional In-Home Care Services
Our caregivers are committed to providing you and your family with attentive, one-on-one, compassionate care within the comfort of your own home. We're dedicated to caring for your family's individual needs and offer non-medical services for every stage of life and for many unique circumstances. If you're interested in care for your family but aren't sure if it's a service we provide, please give us a call, and we'll be happy to assist you in finding the care you need.
Learn more
If your loved one requires a service you don't see listed here, give us a call! We'll help you find your family's perfect in-home care plan.
In-Home Caregivers Dedicated to Serving Seniors in the Washington and Hagerstown Areas
We're proud of our caregivers! We think they're the best in the business, and we're not the only ones. See what other families have to say about how our wonderful in-home health care companions helped their loved ones.
As a health care provider myself I was confident about employing the services of Accessible Home Health Care when I needed transportation to a large metropolitan hospital for several follow up visits related to a surgery I had for a severe arm injury. I used their services for over one year. The local transportation I used from Accessible was excellent! I particularly appreciated being able to call them on extreme short notice, getting calls backs immediately and having my transportation needs met within my time frame and they were ALWAYS on time! I wasn't able to drive from March 2014 to July 2014. They were kind and accommodating. The intake appointment was as thorough as a hospital or physician's office. The care plan and everything that came out of that appointment gave me the security I needed. I thought I had a lifeline with Accessible Home Health Care.

-Anita P.

We needed assistance for a frail out of town relative so that he could attend his daughter's funeral. Without help, he could not have attended the service and mourned with our family. Accessible Home Health Care was amazing; Carmen was professional, responsive and caring and her staff handled things beautifully. Carmen literally came through for us in one day. We are so grateful to them for making a terrible situation a little more manageable. Our relative had great care. Thank you so much to all.

-Judy M.

I found Accessible Home Health Care on the Internet. The care given was wonderful. The caregiver came twice a week. My sister was really comfortable. The caregiver did household chores. We really liked the person they sent. I would recommend this agency to others.

-Barbra S.
Flexible In-Home Health Care Services
Hourly Visits
We offer flexible scheduling for our hourly visits, so you can be sure that your caregiver visits work with your family's schedule. A caregiver can visit with your loved one daily, weekly, or anywhere in between, and can stay for an hour or the entire day. Plus, you can rest easy knowing that we never require commitments or contracts, so you're always able to postpone or cancel services when needed.
Live-in Caregivers
If your loved one needs more constant care, you may want to consider our live-in caregiver option. A live-in companion will provide round-the-clock care, and can assist your loved one as much or as little as they need. Live-in companions are ideal if your loved one has a chronic illness or severe memory loss, but are also excellent for providing your loved one with the assistance they need to remain independent, and providing you peace of mind.
Customized Home Care
Does your loved one need more than one kind of assistance? We're committed to providing you with a stress-free experience, so you never have to worry about finding separate caregivers to provide the care your family needs. Your care plan is fully customizable, so your loved one's needs will always be met.
How We Ensure the Best Care for Seniors of Maryland
Accessible Home Health Care was co-founded by Mirella Salem after she struggled to find compassionate, reliable in-home care for her aging mother. She was frustrated with the lack of consistency and accountability when it came to elder care. We began a public awareness campaign, which we now call our "Patient's Bill of Rights," and actively lobbied for stricter laws governing in-home health care. We want to surpass industry standards, not just meet them, which is why we created three unique programs that ensure every caregiver provides your loved ones with the most compassionate, knowledgeable care.

Access Match Program
We strongly believe that the right caregiver can improve your loved one's quality of life! Through our Access Match Program, we use your loved one's health needs, background, and personality to match them with a caregiver they will look forward to seeing.

AccessSuperiorKare Program
Compassionate care begins with compassionate caregivers! We find the best caregivers and provide them with continuous learning through our ASK program. This ensures that all of our caregivers share the same goals and guidelines for providing the best in home care.

Compassionate Alzheimer's & Loss of Memory Support
Medical advancements are constantly being made in regards to Alzheimer's, Dementia, and memory loss. Our CALMS program provides all of our caregivers with continuous learning so they are knowledgeable and up-to-date, enabling them to provide the best care for your loved one.
Some of the Frederick & Washington Communities We Serve
Boonsboro

Frederick

Funkstown

Hagerstown

Middletown
Monrovia

New Windsor

Williamsport

Woodsboro
We provide service to most of the greater Fredrick & Washington area. If you don't see your city listed, please give us a call to see if you're in our service area.
Awards AHHC Frederick-Washington, MD has Received
Accessible Home Health Care's National Volunteer of the Year Award 2016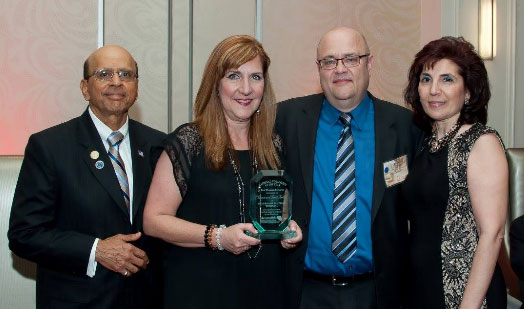 Aarif Dahod, CEO, and Mirella Salem, President, awarding Carmen and David Kukor the National Volunteer of the Year Award 2016
Rosette J. Salem Caregiver of the Second Quarter Award 2017, Bill Striler

Hagerstown Coffee Talk Diamond Award 2015
Carmen Kukor
President of Accessible Home Health Care of Frederick & Washington Counties
Carmen is a Registered Nurse (RN) and the owner of Accessible Home Health Care of Frederick and Washington, one of the few agencies owned and operated by an RN. Carmen is an integral part of providing compassionate care to patients. While working at a local home health care agency, she found that interacting with seniors and improving their daily lives was her calling. Opening Accessible Home Health Care of Frederick & Washington Counties with her husband, David Kukor, has been an experience she continues to enjoy immensely.
Terry Miller
Community Relations Coordinator
Terry brings over 25 years of experience in senior healthcare to Accessible Home Health Care of Frederick & Washington Counties, including in-depth information about nursing homes, assisted living, and home health care. Terry is skilled in management and uses her marketing and sales knowledge to improve occupancy rates, referral base leads, and community involvement. She is also a board member of the Washington County Commission on Aging. Terry is committed to enhancing the quality of life and care for seniors and veterans in Maryland.